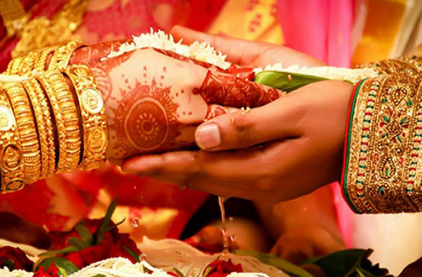 Kundli Matching
It's aforementioned that matches are created in heaven. The saying comes true when two individuals are completely different as the north pole and the south pole end up spending a lifetime. Life becomes simple when you get a decent life partner. A harmonious relationship between couples or partners counts the foremost for a satisfying life. Hence, elders in India, who acknowledged traditional marriages, attach great importance to the prospective bride and groom's compatibility factor. The method of looking for this concord between the two is Horoscope Making, conjointly referred to as Match Matching or Marriage Making. It is the first step in planning a marriage.
Marriage matching or matchmaking is a solemn call taken on behalf of a boy and a girl before they tie the knot to carry and to behold one another for the rest of their lives. The Hindus make sure that the compatibility of this solemn lifelong binding allows the couple to live 'happily ever after'. Ashtakoot and Dashtakoot are two majorly followed matching systems in Vedic Astrology. It indicates the stars' influence on married life and remedial measures required to be taken just in case of any inauspicious yogas simply to confirm a cheerful and healthy married life.
Why is Kundli Matching Important?
People, especially Hindu scriptures, rely on Vedic Astrology for unlocking their future and horoscope matching in India. It is done to examine if there is negativity lying within the bride and groom's path, which will produce disaster in their lives after the wedding.
If any dosha or flaw is found, professional astrologers recommend remedies to abolish the adverse effects of these flaws. Horoscope matching or Guna Milan considers factors including the financial position, the longevity of both the partners and the marriage, emotional stability, and compatibility between the two individuals. Kundli matching of both the partners is quite supportive as it notifies the influence of stars on their marital lives. Both individuals can understand their lives, compatibility to give birth to off-springs, and perform any special pooja required for life's betterment.
Factors to examine in Kundli Matching
The idea of Guna Milan is a crucial feature of Vedic Astrology. A number of factors are thought about while matching the janampatri of both the prospective bride and groom. The moon's placement within the prospective groom and bride's horoscope is the most vital factor in Kundli matching.
It is a common belief that at least 50% of the gunas, i.e. 18 gunas out of 36 gunas ought to match for the prospective couple. Only then, the match will be a fortunate one.
Ashtakoot Milan
'Ashta' means 'eight or aath', and Kuta means 'aspects'. Hence, ashtakoot (8 Kootas) Milan is a process of Guna Milan, which manifest the eight multiplication factors.
These eight Kootas taken into consideration are:
Varna koota - It consists of 1 point. It tells about an understanding between the couple.
Vasya koota - It consists of 2 points. It represents the balance of power dynamics after marriage and control in marriage.
Tara koota - It consists of 3 points. It tells about the longevity of married life.
Yoni koota - It consists of 4 points. It tells about the physical and sexual compatibility, along with attraction and love, between the married couple.
Graha maitri koota - It consists of 5 points. It tells about emotional and mental compatibility.
Gana koota - It consists of 6 points. It is used to compare the temperament of the couple.
Rashi koota - It consists of 7 points. It represents the prosperous life after marriage.
Nadi koota - It consists of 8 points. It assesses the genetic compatibility between the couple.
Guna Milan
People match the behaviours of the bride and groom through the assistance of Gun Milan. Arranged marriages happen in India; two folks who are planning to marry don't know each other. So, both sides of the families attempt to match their qualities through the help of Kundali matching in order to have a successful, happy married life so that they will not suffer in future. There are 36 qualities or Guns considered as the foremost necessity in matchmaking. The success of married life is dependent upon these 36 guns. People want to match maximum qualities in the Kundali of bride and groom. As the more points are, the better the match is. The match obtaining less than 18 is not considered an ideal match and is not recommended for marriage.
Points of Guna Milan
Less than 18 - Not recommended for marriage
18 to 24 - Average, Acceptable match and recommended for marriage
24 to 32 - Very good and a successful marriage
32 to 36 - Excellent match
Frequently Asked Questions
Ques. Is Mangal Dosh in Horoscope Matching important?
Ans - Mangal Dosh is an immensely vital factor in Horoscope Matching. The chances of a successful marriage are greatly affected if Mangal is unbalanced in both the Kundalis. It is a common belief that Non-Manglik should not marry Manglik. Otherwise, this marriage could be a disaster.
Ques. What could be done if there is Mangal Dosha in my kundali?
Ans - The presence of Mangal Dosha in one's kundali can cause a delay in marriage and, if left untreated, can resentfully affect your marriage and cause troubles in one's married life. As a solution to this problem, Mangal Dosha Nivaran Puja should be performed before getting married.
Ques. Could Nadi Dosha be ignored?
Ans - In the Ashta Koota matching system, Nadi has been given the highest value (8 points). If the total number of points is more than 18, it is considered a decent match even if it has Nadi Dosha. When the Nadi of both the partners is the same, then it is considered as Nadi Dosha in Kundali Milan. Multiple effects such as the health of partners, infertility and unhappy marriage are common. However, this Dosha can be resolved if Nadi Dosha Nivaran Puja is performed prior to marriage.
Ques - What can be done if kundalis do not match?
Ans - an experienced astrologer who can help you with astrological remedies is the only solution to this problem. And following that can help you marry your partner.